Ayo Seru Bersama Di Pasar Belanda
Minggu, 08/09/2019 - 09:12 WIB
Hi, Sobat Souja! Apakah Sobat suka dan tertarik dengan kebudayaan Belanda? langsung saja merapat untuk datang di Erasmus Huis, ada Pasar Belanda. Disana Sobat akan bertemu dengan berbagai macam kegiatan seperti pertunjukan musik, pameran seni dan barang antik, makanan, photo booth, screening film dan masih banyak lagi! Sobat bisa mengetahui banyak mengenai Belanda, dimana Sobat dapat teredukasi dan mungkin ingin belajar budaya Belanda lebih jauh.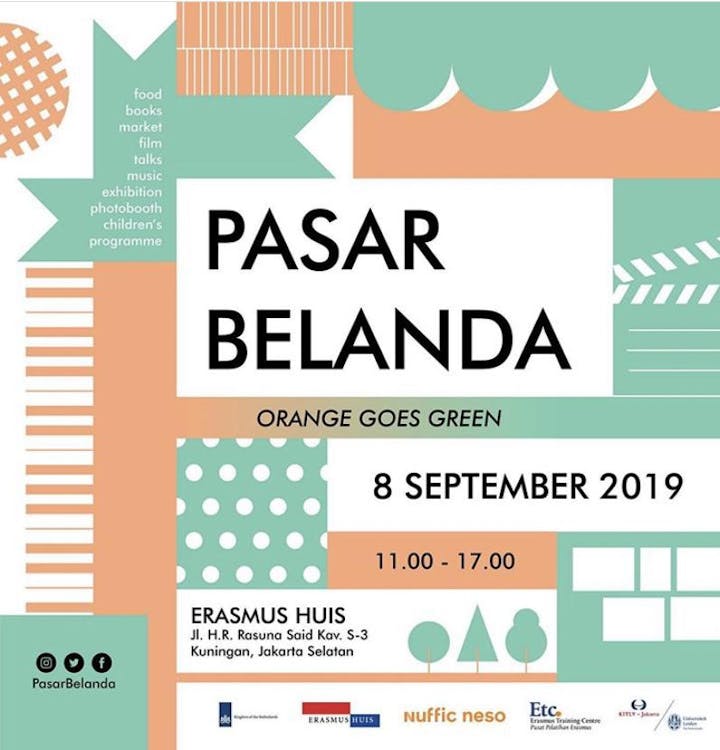 Pasar Belanda
Sunday, 8 September 2019, 11.00 - 17.00
Erasmus Huis
Embassy of the Kingdom of the Netherlands
Jl. H.R. Rasuna Said Kav. S-3
Setiabudi Jakarta Selatan
FREE ENTRY 
Agenda Acara:
11.00 - 11.10 Official opening
11.00 - 17.00 Market & Food Street
12.00 - 16.00 Seminars/ Ted Talks
12.00 - 16.00 Children activities
12.00 - 17.00 Music performances
13.00 - 17.00 Movie screening
Sudah siap untuk mengikuti kegiatan seru di Pasar Belanda ini? jangan lupa untuk mengajak keluarga, sahabat, teman dan pacar kalian ya, untuk tiket di Pasar Belanda ini FREE ENTRY lho Sobat!
Info: erasmushuis@minbuza.nl
Follow INSTAGRAM: @pasarbelanda
FACEBOOK fanpage: pasar belanda