THE MEET MARKET, POP UP BOOTH 24th March – 5th April 2015
Minggu, 29/03/2015 - 20:47 WIB
Sumber: soulofjakarta.com
Jakarta -

Dalam rangka menyambut hari Paskah, The Meet Market 'Pop Up Booth' kembali hadir di Mainstreet Atrium, Gandaria City pada tanggal 24 Maret-5 April 2015. Menghadirkan lebih dari 50 brand clothing (kids,women,and men), knick-knacks, accessories, dan Food & Beverage.

Sesuai dengan tema Easter Day, The Meet Market mengadakan Easter Egg Hunter yang berlangsung selama acara. Cari dan temukan Easter Egg melalui clue yang akan di upload di Instagram @ilovebazaarjkt.


The Meet Market didukung oleh Pakuwon Grup dan beberapa media online. Kami juga memberikan special promo untuk pengguna PG card yaitu extra diskon 10% (*Terms & Conditions Apply).


Acara ini terbuka untuk umum dan kami mengharapkan kehadiran Anda di The Meet Market 'Pop Up Booth'. See you!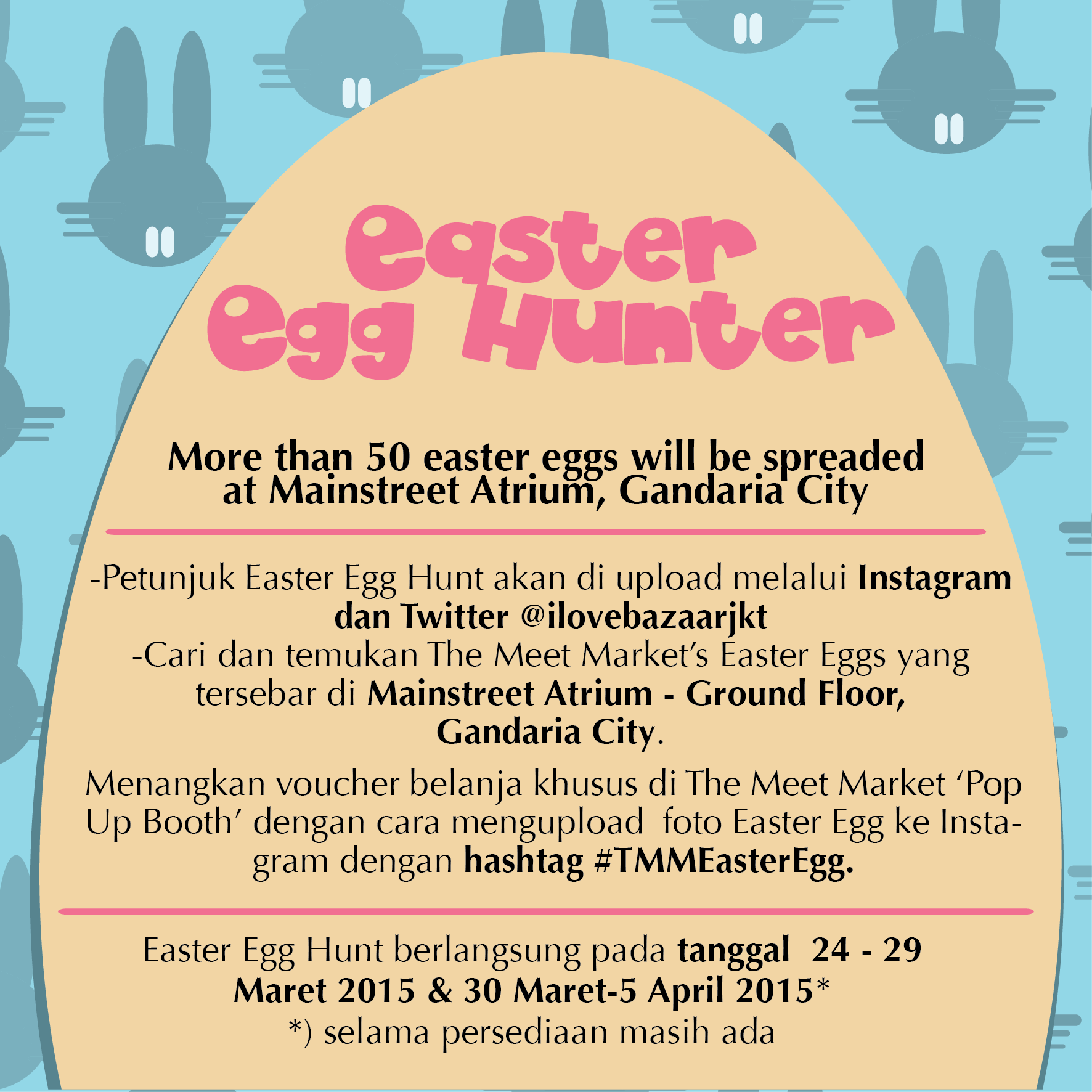 For more info follow

Twitter: @ilovebazaarjkt

IG: ilovebazaarjkt

FB: I Love Bazaar Jakarta

www.allaccessjakarta.com

Artikel Terkait:
Baca Juga:
Minggu, 01/04/2018 - 10:03 WIB

Minggu, 01/04/2018 - 10:05 WIB

Senin, 02/04/2018 - 17:30 WIB

Minggu, 22/04/2018 - 15:16 WIB

Senin, 02/04/2018 - 09:53 WIB

Jumat, 13/04/2018 - 11:25 WIB

Kamis, 12/04/2018 - 17:05 WIB

Jumat, 06/04/2018 - 16:01 WIB

Rabu, 18/04/2018 - 15:11 WIB

Senin, 16/04/2018 - 11:29 WIB

Selasa, 03/04/2018 - 16:50 WIB

Selasa, 17/04/2018 - 12:31 WIB

Minggu, 15/04/2018 - 06:34 WIB

Kamis, 19/04/2018 - 05:27 WIB

Jumat, 06/04/2018 - 06:10 WIB