Global Ventures Summit 2018 is Coming to Jakarta!
Sabtu, 28/04/2018 - 08:11 WIB
Silicon Valley is coming to Jakarta! Para entrepreneur dan pendiri teknologi unicorn dari Silicon Valley melakukan tur keliling dunia untuk pertama kalinya melalui Global Ventures Summit. Event ini bertujuan untuk mendukung ide-ide bisnis terbaik, perusahaan start up dan entrepreneur yang potensial. Setelah sukses menggelar event sebelumnya di Dubai, Los Angeles dan Mexico City, jangan lewatkan kesempatan saat mereka mampir ke Jakarta!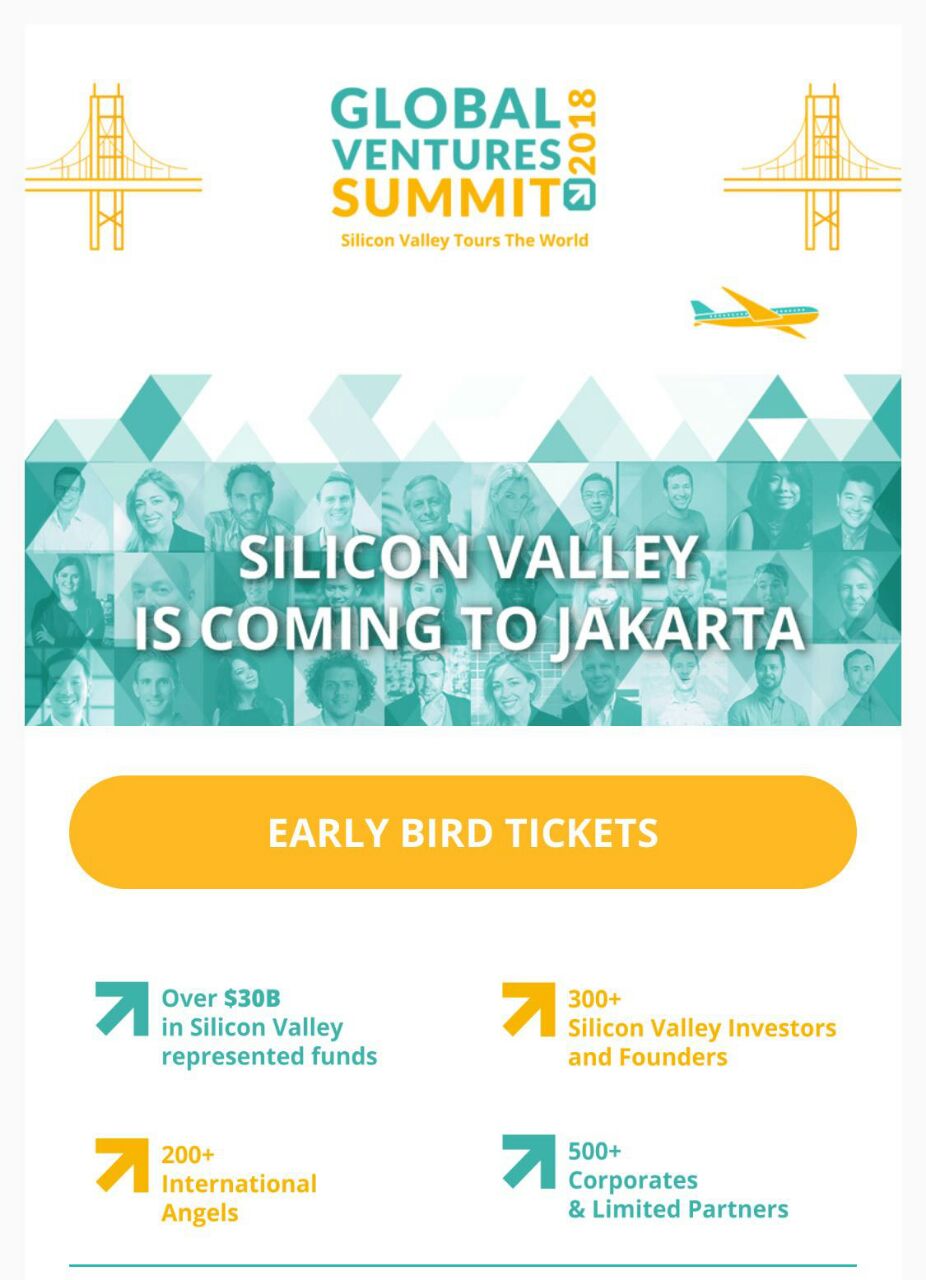 Global Ventures Summit 2018
25 - 28 April 2018
@ Dua Mutiara 2nd Floor, JW Marriot Jakarta
Speakers:
John Fitzpatrick (Google - Head of Startup Program)
Aulia Halimatussadiah (Zetta Media - Co-founder and Chief Content Officer)
Riyadh Al-Ruwais (STC Ventures)
Cynthia Johnson (Bell+Ivy)
Heri Sungkari (Badan Ekonomi Kreatif - Deputy of Infrastucture)
Edwin Ng (Kinerja Pay - CEO)
Andy Zain (Kejora Ventures - Managing Partner)
and many more
Harga tiket:
Early Bird Regular 1 Day Pass: Rp. 650.000
Early Bird Regular 3 Day Pass: Rp. 950.000
Early Bird Regular 3 Day Pass: Rp. 1.105.000
Early Bird VIP 3 Day Pass: Rp. 13.000.000
Startup Exhibition Area: Rp. 7.000.000
Exhibiting Corporate Space: Rp. 45.500.000
Buy 3 Get 1 Free (3 Day Pass): Rp. 2.100.000
Tiket bisa dibeli melalui Go-Tix atau melalui link http://www.gvsummit.co/tickets
More info:
www.gvsummit.co